Solution Services
Board Design

board design
We provide turnkey PCB solutions from circuit design through PCB manufacturing to parts assembly.
And PCB design optimization for high-speed transmission with SI/PI board simulation. Cooling solutions for product miniaturization with thermal, fluid and stress-strain analysis.
Best Solutions for
Customer Problems
We provide concurrent PCB design solution that integrate electrical and thermal fluid/stress simulations for customer's product developments.
Design PCBs with low warpages
We perform warpage analysis, using Cu ratio model based on the real PCB designs. We propose optimized PCB designs low warpages whether BGAs are used.
More details for "Stress Analysis"
Design PCBs with joule heat analysis for high current applications
We propose optimal PCB designs with thermal analysis that integrate joule heat and device operating heat analysis.
【1】Perform joule heat analysis with
precise trace pattern modeling based on the real designs.

【2】 Improve trace flexibility with Embedded Bus Bar.

【3】Place control logic and power devices on the same surface layer.

More details for "Thermal Management Analysis"
Realize stable operation for high performance PCBs
Our optimized PCB design solutions for high performance applications reduce prototype cycles, lead-time, and cost.
【1】Suitable PCB specifications
Optimum materials, Layer structure and design rules

【2】Signal Integrity(SI)Analysis
Waveform quality and timing of high-speed DDRx interface.
【3】 Power Integrity(PI)Analysis
Check DC Drop and Input Impedance of Power Line for Digital Board.

【4】VG plane resonance analysis
Check VG plane resonance for Digital Board.

More details for "Electrical Simulation"



Design Tools and Environment
We provide total PCB design solutions that include a wide range of simulations. We interface design data to a large variety of tools for electrical, thermal, and stress-strain simulations to add values to our customer's products.


Electrical Simulation
We design the high-speed digital board using electrical simulation to satisfy Signal and Power Integrity.
Signal Integrity
SI simulation by using 3D electromagnetic field simulator
We design high-speed digital board using electromagnetic field simulation.
3D model of differential
signal for Module Board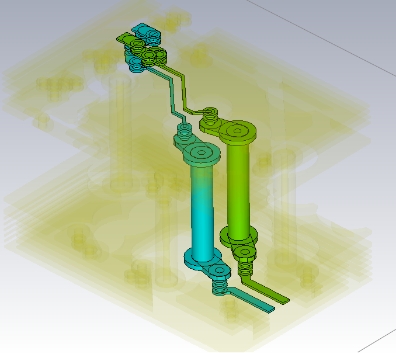 Insertion loss "SDD21"

Return loss "SDD11"d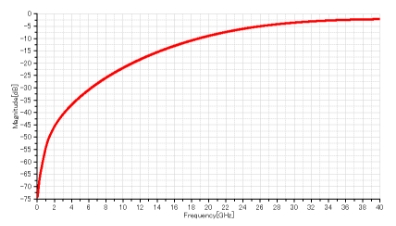 Example of transmission characteristics analysis of
F-ALCS structural substrate
The transmission characteristics analysis results and measurement results for the F-ALCS wiring structure are shown below.
F-ALCS PCB Model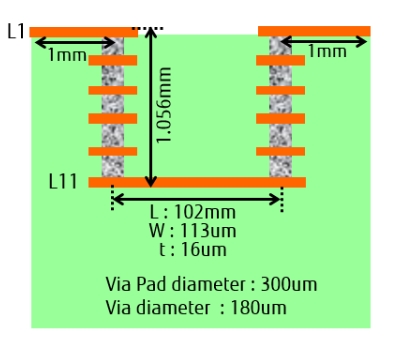 Insertion loss S21
Return Loss S11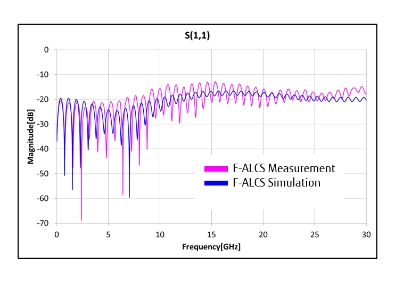 SI simulation for DDR SDRAM
We design board which satisfied Signal Integrity(SI) about DDR SDRAM Interface.
Simulator:SignalAdviserーSI(FUJITSU)

DDR4 SDRAM Layout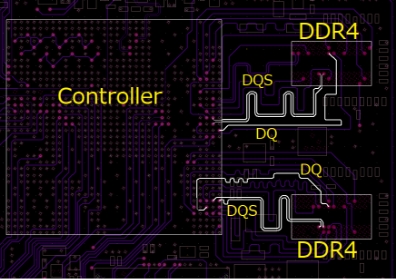 DQ and
DQS Signal's Topology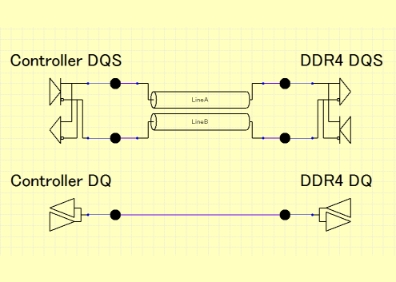 DQ and
DQS Signal's eye diagram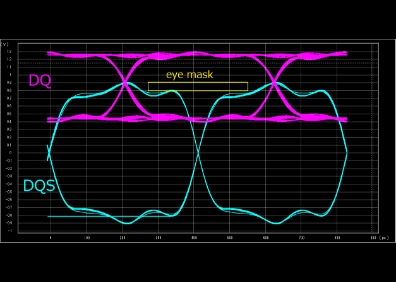 SI simulation for High speed digital channel
We design board which satisfied Signal Integrity(SI) about High speed digital channel.
Simulator:SignalAdviserーSI(FUJITSU)
Interconnect between main
board andmodule boardt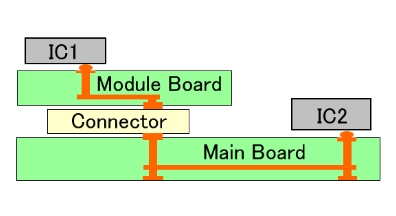 25Gbps signal's eye diagram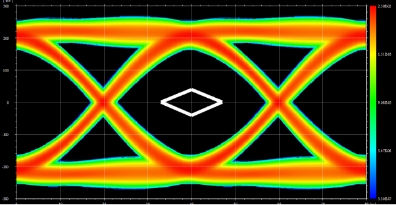 Channel Model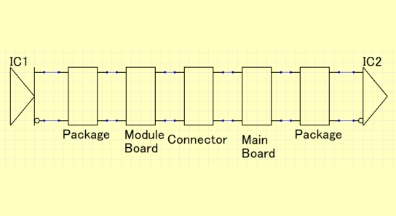 Power Integrity
DC drop simulation
We propose optimized Power Distribution Network designs by electrically analyzing the VDD and GND net (PDN) from the power supply element (VRM) to the IC Devices.
Simulator:SignalAdvsier-PI(FUJITSU)

DC drop simulation model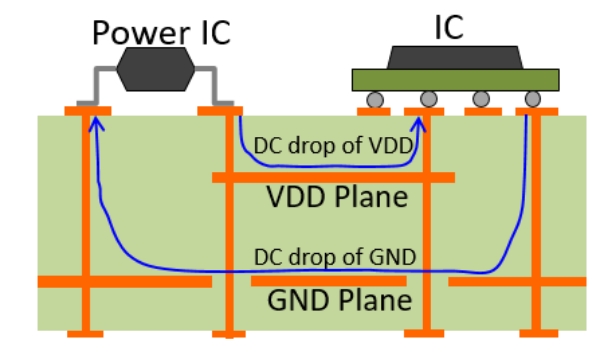 DC drop simulation result Voltage drop from Power IC to IC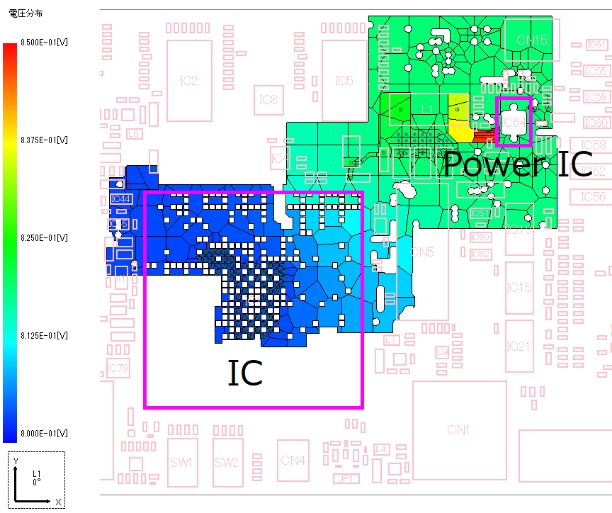 Impedance simulation
For a low power impedance, we propose the design of the power distribution network (PDN) including the VDD/GND plane, vias, and capacitor.
Simulator:SignalAdvsier-PI(FUJITSU)

Impedance simulation model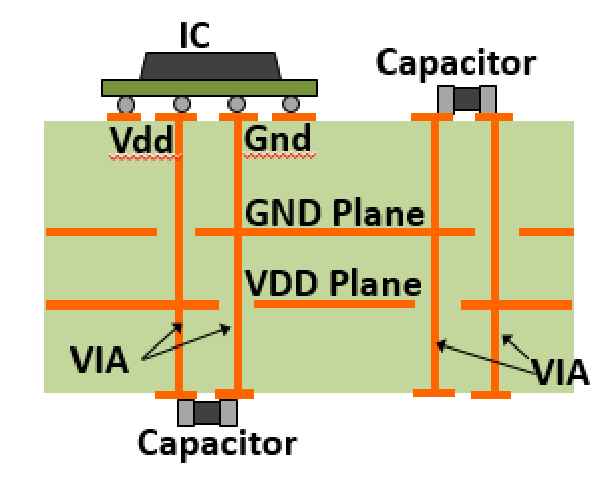 Impedance simulation result
Impedance of PDN observed from IC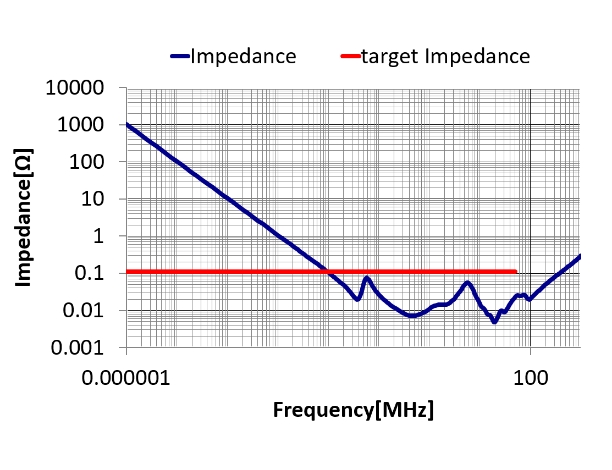 Physical Simulation
We support the optimization packaging design for the customer by our Thermal Management Analysis and Packaging Stress Analysis.。
Thermal Management Analysis
We perform verification and evaluation for thermal structure, responding to each customer's thermal problems for electronic devices.
By performing our thermal management analysis in the early stages of the development phase, we help our customers in reducing cost and time during the development process.
Highly precise modeling

Optimization of radiating fin shape

Optimization of flow path structure and/or inlet/outlet port

Numerical evaluation for unmeasurable fine structure

Smooth modeling in collaboration with a variety of 3D tools(STEP, SAT, STL, iges, Pro/E etc.)

Calculation of junction temperature by estimating temperature rise of electronic device

Evaluation of cooling structure inside casing of electronic device

Verifications of results represented by arbitrary cross-section distribution map and/or vector is available by visualizing flows for temperature/speed/fluid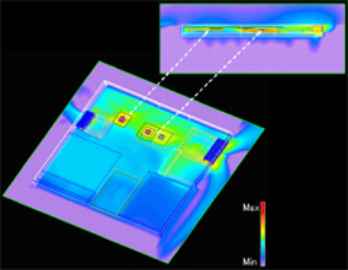 Temperature distribution of laptop PC
Analysis Tool:FLOTHERM
Temperature distribution representation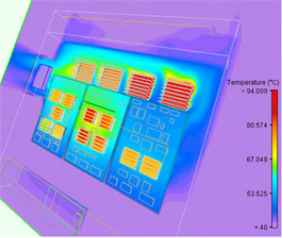 Air speed distribution representation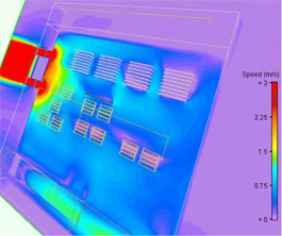 Flow representation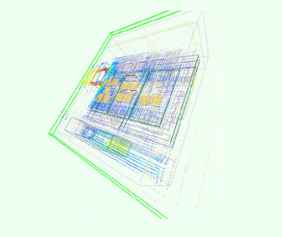 Flow representation (Enlarged view)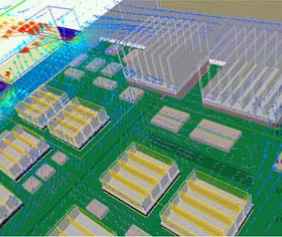 Packaging Stress Analysis
Analyses that leverage our expertise in substrate manufacturing as well as Fujitsu Group's experience in electronics manufacturing.
The heat generated at the time of component packaging causes substrate warpage and gives stress on the component joints, decreasing packaging yield and product reliability. Analyzing such problems in packaging in a way consistent with customer's point of view, we propose optimal packaging design by suggesting packaging location and stress improvement countermeasure best suited to each customer.
Performing simulations in the early stages of the development phase will greatly reduce the number of verifications for prototypes, resulting in the reduction of cost and time during the development process.
Fully utilize the extensive experience and performance of our company and Fujitsu Group combine

Provide non-linear analysis and coupled analysis that take into account the temperature dependency of various material physical property value

Accommodate highly precise analysis, providing large-scale analysis by mesh refinement

Perform qualitative and quantitative verifications based on visualization and quantification of stress/strain distributions

Perform highly precise life prediction by matching simulation and actual devices

Perform modeling in collaboration with a variety of 3D tools(Pro/E, VPS, step, iges, inp, etc.)
Type of Analysis
Stress and thermal stress analysis

Warpage behavior simulation

SMT board level reliability analysis

Dynamic shock analysis

Structural strength analysis

Vibration analysis

Modeling service for simulation
Analysis Tool:・ABAQUS(/Standard,/Explicit)
【1】Case Example : Stress Analysis by Heat/Structure Interaction
Evaluate lifetime by calculating lifetime test acceleration factor based on plastic strain analysis of solder bump.
note) ABAQUS : registered trademark of Dassault Systèmes.
Temperature distribution analysis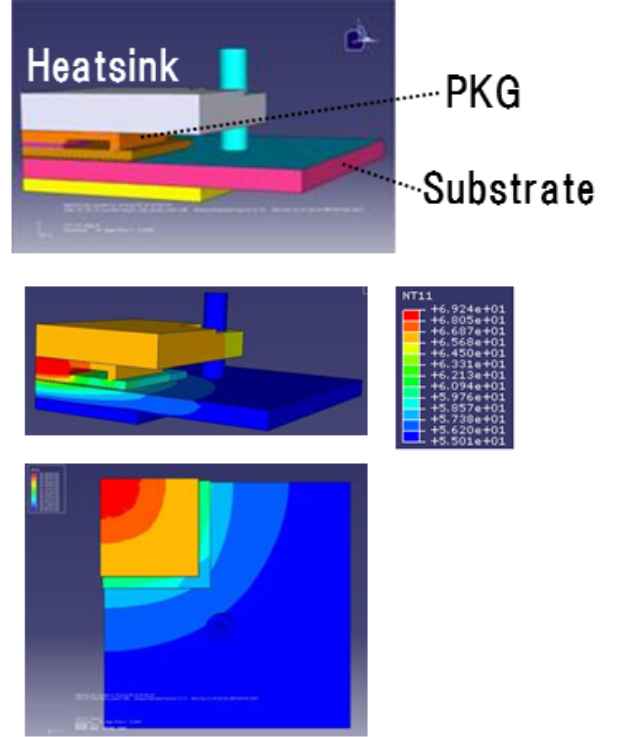 Thermal cycle test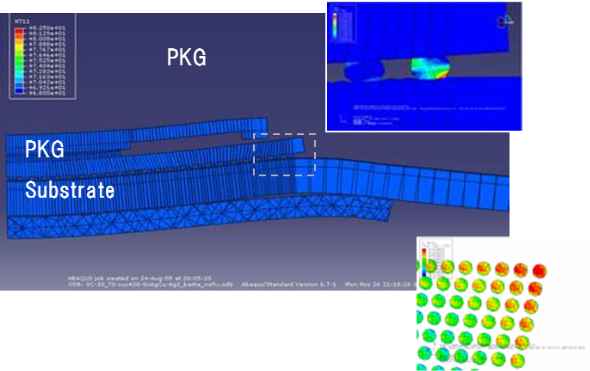 Power cycle (Actual Performance)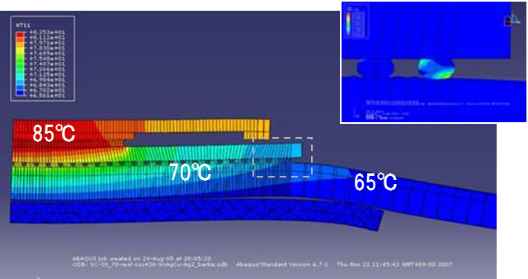 Zooming analysis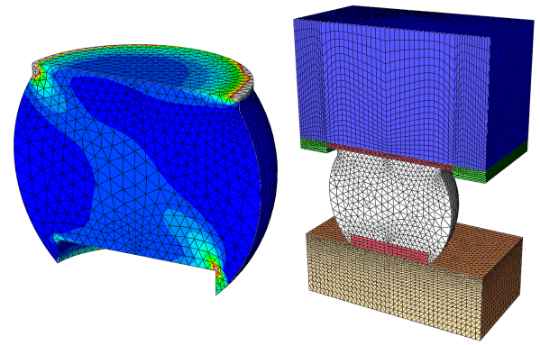 【2】Case Example: Warpage Behavior Analysis of PWBs
Propose optimal pattern design to reduce connection failure resulting from warpage by analyzing substrate warpage behavior caused by the heat at the time of component mounting.
Warpage behavior analysis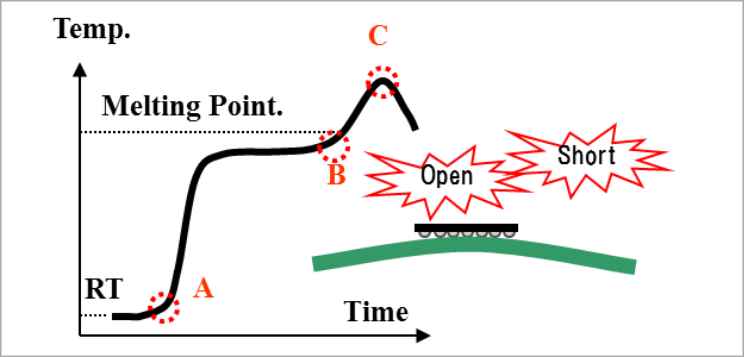 Example of BGA disconnection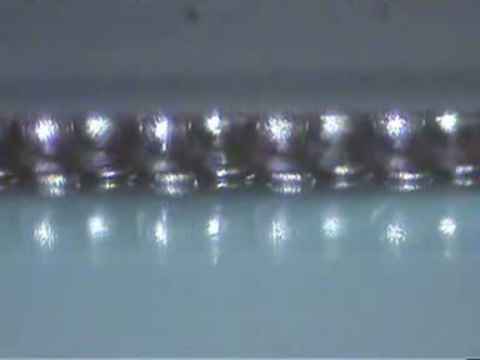 At room temperature (A)
At reflow temperature (B-C)
【3】Case Example: Dropping Impact Analysis
Distortion distribution of assembled printed circuit board under dropping impact will be analyzed.
Proof stress through dropping impact will be evaluated from these impact strain simulation.
Distortion distribution of assembled printed circuit board, especially, precise analysis of neighborhood of IC package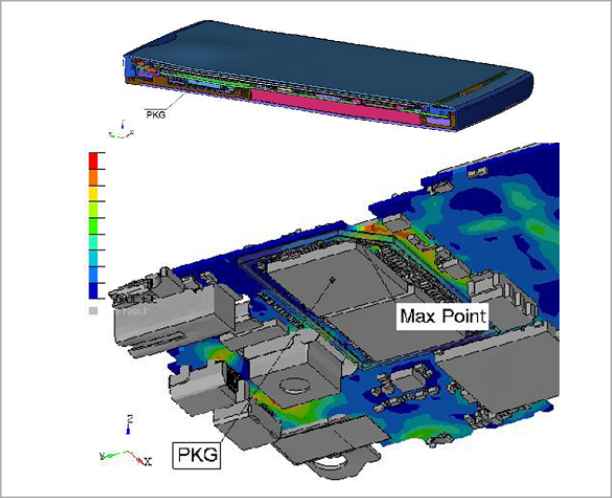 Strain behavior of dropping impact with millisecond time at neighborhood of IC package